Pricing & Payment Information
Groat Acoustic Bass S2, Standard Fretless Model (with Custom Hand Built Case)
$7500.00
Groat Acoustic Bass S2, Optional Fretted Model (with Case)
$7500.00
Crating and Shipping - $150.00 (with Case, within Continental U.S.)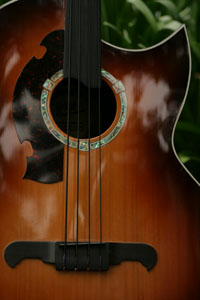 Payment Types
Groat Instruments accepts credit card payments via Pay Pal, personal checks (which must clear bank before any transaction proceeds), and money orders. Overseas purchases must be made via wire transfer. To place an order for any item, use the email address found on the "contact us" page.
What if I purchase an instrument, and find it's not for me? There is a 7-day trial period from when you receive the bass to try it out. If you are not happy with it, you can return it for a full refund, provided it is returned in perfect condition.

Damaging it in anyway voids the refund alternative, so please be very careful with it.

Shipping charges are paid by the customer, and are non-refundable.These conditions apply to "in stock" instruments only, so please keep this in mind when you are considering ordering.