About Carbon Fiber
Although musicians and Luthiers alike often view carbon fiber with suspicion in instrument construction, one should consider this: the reason that rosewood is such a desirable material for guitar back and sides has much to do with its hardness.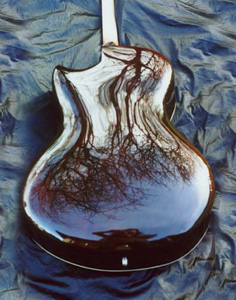 The back and sides of an instrument should never be guilty of stealing acoustic energy that the top could use to produce the actual sound of the instrument.
This is carbon fiber's natural talent. It is acoustically reflective, and is unparalleled in rigidity. This, coupled with complete resistance to the humidity changes that so negatively impact instruments of this size, makes it the perfect candidate for this job.
I love working with wood, it's warm and friendly and rewarding. Carbon fiber, on the other hand, is a sort of unpleasant medium to work with. I think that this element, along with general unfamiliarity, keeps it from being more commonly used.
In addition, it's pretty common for many Luthiers to scrunch up their faces in pain whenever carbon fiber and guitar are used together in the same sentence. Once again, the reason that carbon fiber hasn't had the age old familiarity of wood as a material for instrument construction is because it's a relatively young technology, but that should in no way confuse it with being inferior.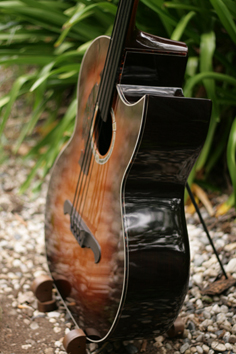 Quite the contrary, carbon fiber achieves such unsurpassed results that I couldn't even imagine using anything else in its stead.
It's worth mentioning that a little perk to using carbon fiber is for conscience' sake: in an age where woods such as rosewood and ebony are becoming so scarce, it feels good to know that using carbon fiber means not contributing quite so much to the demise of these resources. In summary, the use of carbon fiber simply reflects the commitment that Groat acoustic basses have to the highest level of bass presence and tonality.